31 Oct

MediPurpose Introduces New SurgiLance™ Lite Safety Lancets
Three New 21-Gauge Fingerstick Devices Expand SurgiLance™ Lite Portfolio to Six Models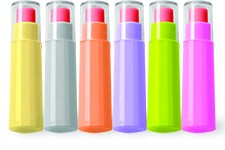 ATLANTA and SINGAPORE—MediPurpose, a medical product manufacturer and master distributor, today announced that it has introduced three new 21-gauge SurgiLance™ Lite safety lancet models.
The announcement extends the SurgiLance™ Lite portfolio to six models. Originally introduced with three 28-gauge configurations in 2015 as an expansion to MediPurpose's flagship SurgiLance™ safety lancet brand, the new models include:
SLL21G180 (purple | 1.8 mm penetration depth)
SLL21G220 (lime green | 2.2 mm penetration depth)
SLL21G280 (pink | 2.8 mm penetration depth)
As with the classic SurgiLance, SurgiLance Lite safety lancets are sterile, pre-armed and single-use medical devices that prevent accidental sharps injuries before and after activation. However, because of the SurgiLance Lite's smaller and lighter form factor, the company said that the eco-friendly device's carbon footprint will be reduced because it can be shipped more efficiently.
Already cleared by the U.S. FDA, SurgiLance earlier this year received CE Mark clearance to market the medical device in Europe, as well as Health Canada clearance for Canadian distribution.
For more information about all SurgiLance safety lancets—including no-cost product samples—please visit https://medipurpose.com/surgilance.
---
About MediPurpose
Founded in 1999, MediPurpose is a boutique medical product company with offices and partnerships in the United States, Canada, LatAm, EMEA and Asia.
Specializing in safety sharps devices such as our flagship SurgiLance™ safety lancet and the popular babyLance™ safety heelstick (acquired by Clinical Innovations in July 2016), we also offer affordable high-quality MediPlus™ Advanced Wound Care products. Our newest product is the Anzen™ safety scalpel with a reusable metal handle similar in weight and balance to traditional metal handle scalpels. It was engineered using the feedback of surgeons and surgical techs to ensure an intuitive design that is easy to use and feels familiar and comfortable.
Our Medical Device Innovation and Medical Product Distribution divisions provide R&D and commercialization consultation for new medical device inventors and innovative medical product companies that seek entrance into new medical product markets—which includes angel funding, feasibility studies, manufacturing support and market launch, among other services.
For more information about MediPurpose, please visit medipurpose.com.