06 Jan

Donated SurgiLance™ Safety Lancets Help Central Florida Pharmacy School Provide Dozens of Free Glucose Screenings
LECOM-Bradenton Students Used SurgiLance SLN170 28-Gauge Safety Lancet in Screenings for Diagnose Type 2 Diabetes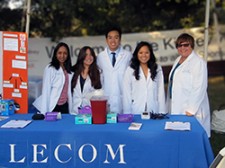 ATLANTA, SINGAPORE and BRADENTON, Fla.—MediPurpose™, a medical product manufacturer and master distributor, today announced that donated SurgiLance™ safety lancets enabled a Central Florida pharmacy school to perform free glucose screenings for area residents.
Throughout late 2014, students from the LECOM (Lake Erie College of Osteopathic Medicine) School of Pharmacy's Bradenton campus attended community events to perform more than 60 free glucose screenings.
Glucose screenings are most often performed to diagnose Diabetes Mellitus (Type 2), which, according to Centers for Disease Control (CDC), is undiagnosed in 27.8 percent of the U.S. population (8.1 million people).
The donated needlestick devices enabled LECOM students to safely and comfortably perform the requisite fingerstick procedures required to draw blood for analysis.
Several boxes of SurgiLance SLN170 28-gauge safety lancets were donated to LECOM last summer after students reached out to several safety lancet manufacturers. According to LECOM Pharm. D Candidate (Class of 2017) Preethi Yarabouthu, MediPurpose was the first company to respond.
"Without a budget to purchase supplies, we needed to reach out to medical product manufacturers for donations," said Yarabouthu. "We found MediPurpose through a Google search for 'safety lancets', and they quickly responded to our request, agreeing to donate SurgiLance safety lancets to us."
Yarabothu said she and her team were not only very delighted with MediPurpose's cooperation, but were also very satisfied with SurgiLance's performance. "SurgiLance is a billion times better than the lancets we've used before," said Yarabothu. "Patients usually flinch when we prick their fingers, but there was rarely, if ever, any reaction when we used the SurgiLance."
According to Patrick Yi, founder and CEO of MediPurpose, the SurgiLance SLN170 safety lancet was selected for donation because of its optimal use for glucose screenings. "The SLN170's 28-gauge needle is very thin, which significantly reduces pain," said Yi. "Further, its 1.7 mm penetration depth is enough to produce adequate blood flow without requiring additional fingersticks. We are pleased to hear that LECOM's students and their patients had satisfactory experiences with our safety lancet."
---
About MediPurpose
Founded in 1999, MediPurpose is a boutique medical product company with offices and partnerships in the United States, Canada, LatAm, EMEA and Asia.
Specializing in safety sharps devices such as our flagship SurgiLance™ safety lancet and the popular babyLance™ safety heelstick (acquired by Clinical Innovations in July 2016), we also offer affordable high-quality MediPlus™ Advanced Wound Care products. Our newest product is the Anzen™ safety scalpel with a reusable metal handle similar in weight and balance to traditional metal handle scalpels. It was engineered using the feedback of surgeons and surgical techs to ensure an intuitive design that is easy to use and feels familiar and comfortable.
Our Medical Device Innovation and Medical Product Distribution divisions provide R&D and commercialization consultation for new medical device inventors and innovative medical product companies that seek entrance into new medical product markets—which includes angel funding, feasibility studies, manufacturing support and market launch, among other services.
For more information about MediPurpose, please visit medipurpose.com.
About LECOM
The Lake Erie College of Osteopathic Medicine (LECOM) is the nation's largest medical college and is the only Academic Health Center in the osteopathic profession.
With the college and the hospital as the core of a highly innovative medical education system based in Erie, Pennsylvania, it also has campuses in Greensburg, Pennsylvania and Bradenton, Florida.
For more information about LECOM, please visit lecom.edu.