06 Jun

Billionth SurgiLance Safety Lancet Sold to AOSS Medical Supply
Introduced in 1999 as the SurgiLance One-Step safety lancet, MediPurpose's flagship medical product has sold steadily since its launch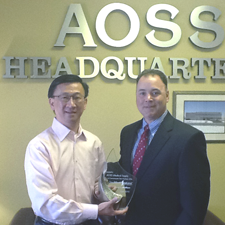 ATLANTA and MONROE, La.—MediPurpose™, a master distributor and manufacturer of medical products, today announced the sale of its billionth SurgiLance™ safety lancet to Louisiana-based medical product distributor AOSS Medical Supply.
AOSS Chairman/CEO Eric Liew, right, accepts an award from MediPurpose Regional Sales Manager Shawn McKeever, commemorating AOSS' purchase of the billionth SurgiLance™ safety lancet.
"We are thrilled to be a part of this special moment in MediPurpose's history," said AOSS Chairman/CEO Eric Liew. "We've partnered with MediPurpose since 2005, and we look forward to enjoying that relationship for many more years."
MediPurpose founder and CEO Patrick Yi expressed mutual appreciation for his company's relationship with AOSS. "Although we value all of our customers, it's fitting that AOSS purchased the billionth SurgiLance, as they've been one of our most supportive customers over the years."
Quantity and Quality
Introduced in 1999 as the SurgiLance One-Step safety lancet, MediPurpose's flagship medical product has sold steadily since its launch, said Yi, who credits the fingerstick device's popularity to its safety, comfort and ease of use, as well as a little luck.
"SurgiLance's early success was somewhat of a 'right time, right place' situation, and it enabled us to develop a truly innovative blood collection medical device line that continues to meet a unique demand in the market," said Yi. Along with SurgiLance, MediPurpose also manufactures and sells babyLance™ safety heelsticks.
According to Success Stories in Medical Device Innovation: SurgiLance™ Safety Lancet, Yi was bootstrapping SurgiLance in Singapore in 1999 when he recognized the innovative device's potential in a U.S. market that was on the verge of enacting of the 2000 U.S. Needlestick Safety and Prevention Act. His timely marketing efforts ultimately led to two sizable U.S. medical products distribution contracts—which both introduced SurgiLance to the country and provided the financing to push SurgiLance into full production.
Yi also said that SurgiLance's popularity has been buoyed by a superlative quality record. For fiscal year 2012, SurgiLance's complaint rate was less than one in five million and has maintained a downward trend since FY 2003.
"We are very proud of our SurgiLance safety lancet's quality record," said Yi. "Of course, the goal always is to not have any complaints, which is a significant challenge considering the millions of lancets that we sell each year."
---
About MediPurpose
Founded in 1999, MediPurpose is a boutique medical product company with offices and partnerships in the United States, Canada, LatAm, EMEA and Asia.
Specializing in safety sharps devices such as our flagship SurgiLance™ safety lancet and the popular babyLance™ safety heelstick (acquired by Clinical Innovations in July 2016), we also offer affordable high-quality MediPlus™ Advanced Wound Care products. Our newest product is the Anzen™ safety scalpel with a reusable metal handle similar in weight and balance to traditional metal handle scalpels. It was engineered using the feedback of surgeons and surgical techs to ensure an intuitive design that is easy to use and feels familiar and comfortable.
Our Medical Device Innovation and Medical Product Distribution divisions provide R&D and commercialization consultation for new medical device inventors and innovative medical product companies that seek entrance into new medical product markets—which includes angel funding, feasibility studies, manufacturing support and market launch, among other services.
For more information about MediPurpose, please visit medipurpose.com.
About AOSS
AOSS Medical Supply is a leading private medical supplier to the plasma, blood bank, hemodialysis, laboratory, EMS, hospital, private physician/surgical and long-term care, physical/occupational healthcare market segments.
AOSS provides disposable ancillary medical supplies and equipment—along with janitorial products—to facilities in North America and across the globe.
Corporately headquartered in Monroe, Louisiana in a 46,000-square-foot facility, with a second 26,000-square-foot distribution facility in Salt Lake City, Utah, AOSS also offers a custom designed secure-encrypted in-house, online ordering system for direct facility access, with direct link to their approved product lists, review of orders before shipments, and purchase and usage reporting.
For more information about AOSS, please visit www.aossmedicalsupply.com.